The Hakuba Valley boasts incredible variety with ten different resorts so no matter your ability level Hakuba will be able to accommodate you and your party. If you can't visit all the resorts in the valley, worry not I have you covered with what you need to know to have the perfect Hakuba ski holiday.
All ten resorts are connected with a single lift ticket, the Hakuba All Valley Lift Pass. Pass holders also receive access to all inter-resort shuttles included with the pass (otherwise each ride is ¥500). Enquire below to have your Hakuba Valley Pass delivered to your accommodation before you arrive.
Tsugaike Kogen
Beginners and intermediates would be best served to start their skiing at Tsugaike Kogen. The slopes are wide, gentle, and devoid of trees making it the best place to build your confidence.
The main street at the foothill of Tsugaike has various izakayas as well as western style restaurants for you to explore. All in all a very charming experience.
Insider Tip:
"Kane-no-naru-oka" (The hill where the bell rings) is the best run for families and beginners. This mellow run is 1,200m wide, 980m in length, and has comfortable 9 degree average gradient. It also has night skiing.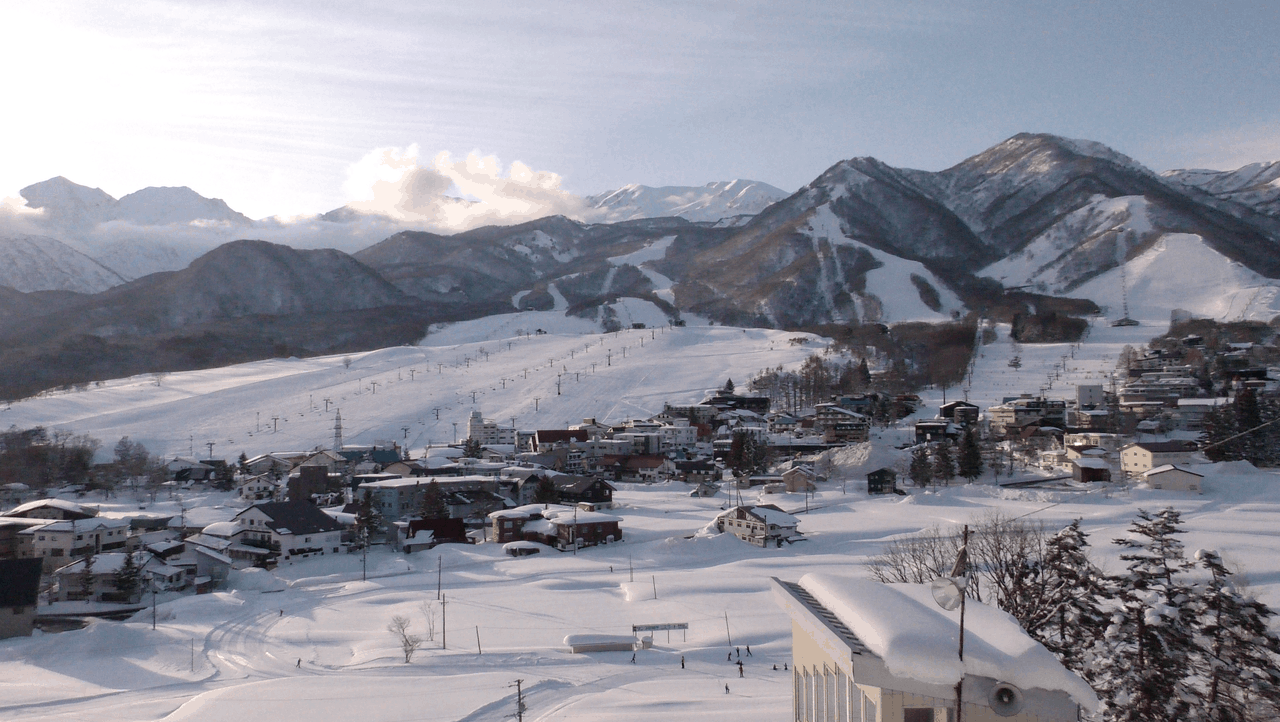 Lift Tickets(1day)
Adult Lift Ticket

¥4,500

Junior Lift Ticket

¥2,500

Senior Lift Ticket

¥3,000
Rentals(1day)
Ski Set

¥3500

Snowboard Set

¥3500

Wear

¥3000
Beginner
50%
Intermediate
30%
Advanced
20%
Number of Courses

9

Slope Gradient(degrees)

35°

Longest Run(m)

4,900
Cortina
Powder hounds heading to Hakuba will of course have heard the great lore of Cortina and its off-piste tree runs and unmatched side country. It receives the highest and driest snowfall in the valley and usually gets nearly twice as much snow as neighboring resorts! The snow patrol at Coritna are quite relaxed, and off-piste skiing is not an issue. Ridgeline runs that drop into near-perfectly spaced trees will delight those wanting to earn their turns and get waist-deep in the pow.
Cortina has fewer runs compared to other resorts in the valley but it's interlinked with the neighboring Norikura and the the lift pass gives you access to all 25 combined runs which opens options nicely if you're looking to stay on piste.
At the foot of Cortina sits one of the most iconic properties in Hakuba, the Green Plaza Hotel. While the impressive structure may resemble something out of The Shinning, we can assure you the atmosphere is more welcoming. With a delicious fusion restaurant and a great buffet, the Green Plaza Hotel is perfect for those who wish to languish by a fire and Après all day.
Insider Tip
GO HERE ON A POWDER DAY. You can basically ski any of the trees, and most on the front side of the resort funnel back down to the base center. It is not to be missed.
Lift Tickets(1day)
Adult Lift Ticket

¥3,600

Junior Lift Ticket

¥2,000

Senior Lift Ticket

¥3,000
Rentals(1day)
Ski Set

¥3,500

Snowboard Set

¥3,500

Wear

¥3,000
Beginner
40%
Intermediate
30%
Advanced
30%
Number of Courses

16

Slope Gradient(degrees)

42°

Longest Run(m)

3,500
Happo-One
The largest and most central resort in the valley is Happo-One (pronounced On Ay), spreading across 220 hectares. Happo-One hosted several of the 1998 Winter Olympic events including the ski jump and the slalom.
The pitch is on the steeper side with a 1701 vertical meter drop and is best suited for intermediate and advanced skiers. Beginners at Happo should visit Saka where the terrain is more mellow.
Terrain park dudes are in luck, the Happo Banks Terrain Park or 'the Banks' as its referred to by those in the know, may be the best park in the valley.
On a powder day our suggestion would be to check out the tree runs on Skyline. Not as long as Cortina's but just as fun.
Insider Tip
On a clear day, head up to Reisen Grat, the resort's highest peak and ski all the way down through Alpen, Usagidaira and Panarama, coming onto what was once the Women's Slalom course and finishing up at the bottom of the Kokusai area.
Lift Tickets(1day)
Adult Lift Ticket

¥5,500

Junior Lift Ticket

¥3,200

Senior Lift Ticket

¥5,000
Rentals(1day)
Ski Set

¥3,500

Snowboard Set

¥3,500

Wear

¥3,500
Beginner
30%
Intermediate
50%
Advanced
20%
Non-groomed
15%
Groomed
75%
Groomed
10%
Number of Courses

14

Slope Gradient(degrees)

35°

Longest Run(m)

8,000
Iwatake
A great option for families or groups with a mix of abilities, Iwatake has terrain for every skill level. Just 10 minutes from Hakuba Station, the resort is easily accessible from Happo Village.
Once beginners build confidence, they can take an easy run from the top of the mountain all the way to the base; there are also more challenging intermediate routes that branch off from this run. Advanced skiers can stay busy as well as their are high speed runs, powder skiing and a terrain park.
Insider tip: One of the best ramen shops in town is located at the base of the ski resort. Come out from the gondola entrance and cross the road to a wooden shack with skis and snowboards out the front. The ramen here is to die for.
Lift Tickets(1day)
Adult Lift Ticket

4,600yen

Junior Lift Ticket

2,800yen

Senior Lift Ticket

4,100yen
Rentals(1day)
Ski Set

¥4,000

Snowboard Set

¥4,000

Wear

¥3,200
Beginner
30%
Intermediate
50%
Advanced
20%
Number of Courses

26

Slope Gradient(degrees)

35°

Longest Run(m)

3,800
Hakuba 47
Connected to Goryu, these resorts sit right next to Happo One (the two have reciprocal views of each other) and are adjacent to Goryu and Echoland villages. This is another resort that's great for the family; there's a large variety of beginner and intermediate terrain with some challenging blacks as well. A few good days could be spent here, as the tree runs are mint when the go is POW and the terrain park perfect for firmer conditions.
Insider Tip
Sign up to their "Double Black Diamond Club" and you'll have access to the formidable off-piste and backcountry. It's free to register and you'll receive a bib that gives you access to the exclusive terrain.
Lift Tickets(1day)
Adult Lift Ticket

¥5,000

Junior Lift Ticket

¥2,700

Senior Lift Ticket

¥4,000
Rentals(1day)
Ski Set

¥4,000

Snowboard Set

¥4,000

Wear

¥3,000
Beginner
60%
Intermediate
20%
Advanced
20%
Number of Courses

16

Slope Gradient(degrees)

35°

Longest Run(m)

5,000
From Narita Airport
If flying into Tokyo, Narita airport, you have two options for transportation to Hakuba.
Option 1
The fastest route requires two trains and a bus. The first train will be from Narita airport (these trains leave the airport frequently), delivering you to Tokyo Station within the hour. From there you take the bullet train – famously known as the Shinkansen – to Nagano Terminal. Pre-book the Shinkansen (¥8,200) so you can assure yourself a seat. It will probably be the nicest train trip you've ever taken with scenic views of the Japanese countryside and the pure modern amenities of the train itself (wait till you see the bathroom's, you'll want to live in one!).
From Nagano Terminal you take a one and a half hour bus (¥1,800), which will deliver you safely to Hakuba Station. In total this route will take no more than four hours.
Option 2
Take the Nagano Snow Shuttle (¥10,250) from Narita airport straight to Hakuba. This trip will take just over five hours in total but it's the most direct route and will save you having to lug your things around from station to station.
From Haneda Airport
Option 1
Take the monorail to Hammatsucho Station, transfer to the Yamanote Line (the large green circular line), and take it to Tokyo Station. There you can board the Shinkansen to Nagano Station and then the bus to Hakuba Bus terminal as outlined above.
Option 2
Take the Nagano Snow Shuttle (¥9,600) from Haneda Airport straight to Hakuba. This trip will take just over five hours in total and departs Haneda twice daily at 7:30 and 1:30 P.M.
Side Note 
If you're interested in travelling for a day or two during your trip, buy the JR East Rail Pass. For ¥22,000 you receive 5 days of unlimited use of JR transportation network. Check this out for more information.
Ski-Ta-Qyu-Bin (Black Cat)
Send your ski bags and luggage from the airport to your resort hotel for under ¥5,000 by using the Black Cat Service. Delivery takes 2 days so this best for people spending at least a day or two sightseeing in Tokyo or elsewhere. Visit their site to learn more.
Lessons and Rental Equipment
With a number of English-speaking ski schools in the area you wont have to worry if your Japanese isn't up to scratch.
Lessons
There are an array of excellent ski schools in Hakuba including Hakuba Snow Sports, Evergreen, Frontier, and more accommodating all types of lessons from group to private on several different mountains throughout the Valley.  Fill out the form below and we'll help set you up with the best option for you.
Ski Hire
No need to lug your gear across the world to ski Hakuba. There are loads of excellent rental shops offering a range of gear from standard offerings to the latest demo gear. Enquire below and we'll ensure you gear is reserved and that you receive a ride to the rental shop.
Sake Brewery and Tasting
Take a step into the past and tour a hundred year old Japanese sake brewery followed by a sake tasting and lunch. The tour is held in nearby Omachi, only 20 minutes from Hakuba by train. Complimentary drop off and pick up at the train station included.
Tour, Sake Tasting, and light lunch – ¥5,500
Tour, Sake tasting, and two course lunch ¥7,000
Snowmobiling
Driving through fresh powder on a powerful machine is one of the best ways to spend an hour off the slopes this winter. A single ride costs ¥12,000 while a tandem ride will set you back ¥18,000. Check out Lion Adventure site for more details.
Take a nice wander through the trees on the fresh untouched snow of the Iwatake Snow Fields.  This guided tour leaves twice a day and includes a tea break in the forest.
Cost:
6000 yen per person (10yr +)
ACCOMMODATION
As ski towns go, Hakuba is definitely on the vast side and therefore has plenty of options to choose from in terms of accommodation. The valley is separated into various boroughs and we recommend staying in the Echoland, Happo and Wadano areas of Hakuba as this will give you easy access to more ski resorts, more après options, bars, restaurants, cafés and shops. There are plenty of options for those who are doing Hakuba on a budget as well as those who want to take the 5 star route.  Here are a few of our favorite Hakuba Accommodation spots.
Swipe Right to See Our Favorite Places to Stay at Every Price Point
Hotels
Another Happo locale is the Marillen Hotel & Restaurant. The Austrian style structure situated at the foothill of the Nakiyama ski slope in Happo-One is one of the very few ski in ski out hotels in the Valley. The Austrian theme stretches right over to the food as schnitzel and pretzels are served while a fire roars and live musical acts perform in the apres bar. Night skiing is conveniently held on the Nakiyama ski slope so you can head out for a few more laps straight after dinner if the mood strikes you.
Phoenix Hotel is an upmarket property in Wadano offering guests a high level of service including housing what is in our opinion Hakuba's number 1 restaurant, Mimi's. The property also has a great lounge bar, Hot Springs (Onsen) and offers guests private shuttles to and from the ski resorts.
Hakuba Springs Hotel is a modern western style hotel located in the center of the Happo Village and minutes walk to the lifts of Happo-One ski resort. The hotel is a complex comprising of shopping, restaurants, a bar, and great hot springs with spas and a sauna. This is our go to Happo Village Hotel, as all your needs are covered here. The hotel is home to the great Japanese restaurant, Sharaku, one of the area's most lively bars, Jack's Sports bar, which offers guests a high level of service with very knowledgeable local staff and is in an optimal position.
Chalets
Luxury Chalets
If jaw-dropping luxury is more your thing, look no further than One Happo, Asia's most luxurious alpine chalet. This 5 bedroom beauty, has too many ammenities to list her so I'll just share a few of my favorite:
Private Onsen overlooking Happo One
Full Weight Room
Smart House Technology
Infrared heated outdoor balcony overlooking Happo
A luxury 350sqm 4-bedroom residence located among the cypress and cedar trees of picturesque Wadano woods, just 150m from the Sakka Quad lift. The perfect alpine retreat for for families and friends alike.
Located at the base of Happo One, Asagiri Chalet is literally a one minute walk to the slopes, amazing restaurants, coffee shops, ski rentals and more. This luxurious chalet combines the convenience of a central location with the highest levels of comfort and class.
Restaurants & Apres
The Hakuba Valley is blessed with an array of delicious restaurants spanning a seeminly endless number of cuisines and price ranges.  It's the type of place where you can try a new restaurant for every meal during your stay, and still have so much to discover in the Valley.
Breakfast: Swipe Right To see Our Favorite Spots
Japanese: Swipe Right to See Our Favorite Spots
Western: Swipe Right To see Our Favorite Spots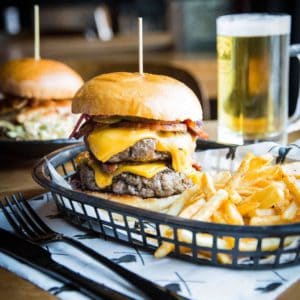 The Rabbit Hole
In addition to having an excellent selection of beer, wine and spirits on hand, The Rabbit Hole is also known for their burgers (probably the best in the valley). Don't leave without trying the delicious Chuck Norris burger.  Smells Like Bean Spirit for the vegetarians. The burgers are big and made with the freshest ingredients around.
Price Guide: ¥¥¥
Location: Wadano. See Map.
Phone Number: +81 261-85-0808
Blizzard
One of the only wood-oven pizza restaurants in Hakuba, Blizzard is new to Hakuba for the 2018/19 season. The man running the kitchen, Paolo Coluccio, is the former national champion of Italy's most prestigious pizza making competition, and owns a fine dining restaurant in Tuscany.  Sitting directly across from the Happo Gondola, Blizzard will be a great place to chill out with tasty pizza after a day on the slopes.
Price Guide: ¥¥¥
Location:  Happo Village
Bernd's Keller
Located within the Merillen Hotel, this is the only authentic European alpine cuisine in all of Hakuba. The restaurant features delicious European cuisine and hearty German favorites such as cheesy fondue, steaks and grills, house-made sausages, schnitzel and pretzel sandwiches with an extensive international wine list to pair for a truly satisfying evening. 
Price Guide: ¥¥¥
Location: Echoland. See Map.
Phone Number: +81 261-85-0198
Cherry Pub
Cherry Pub in Echoland is the best place in Hakuba to fill up after a long day on the slopes. Get stuck into a big schnitty, try the sumptuous BBQ pork ribs, or get those hands dirty on some delicious buffalo wings.  With an indoor fireplace and a large selection of whiskeys Cherry Pub is the place to while the winter night away.
Price Guide: ¥¥¥
Location: Echoland. See Map.
Phone Number: +81 261-72-2343
Fine Dining: Swipe Right To see Our Favorite Spots
Mimi's
Mimi's Restaurant, located inside the popular Phoenix Hotel in Wadano, is a true fine dining experience. Run by husband and wife team Kazu and Yuki Shinamoto, they bring a passion and focus to serving the highest quality food made from nothing but the best produce. The locally procured black porck is out-of-this-world while Yuki's desserts will leave your taste buds in a spin.
Location: Wadano
Phone Number: +81 261-72-4060
TRAUMEREI
Situated in an old manor, Traumerei projects class and serves up amazing French cuisine that will have you talking about it for days to come. The 8 course French dinner is outstanding, while the steak is often raved about (but certainly on the expensive side). The service is impeccable with owner, Nishino, a veritable expert on wine. A beautiful spot for a special meal; Traumerei is wonderful dining experience.
Price Guide: ¥¥¥
Location: Misorano. See Map.
Phone Number: +81 261-72-5120
TEPPANYAKI STEAK SANNO
Teppanyaki Steak Sanno take only one booking per night and makes for a unique Japanese experience featuring high quality Wagyu steak grilled in front of you in true Teppan style. With only six seats in the whole restaurant, the atmosphere is intimate and distinctively Japanese. A line-up of locally produced Whiskey's is the perfect accompaniment to an amazing meal.
Price Guide: ¥¥¥
Location: Echoland. See Map.
Phone Number: +81 80-5517-1060
Apres/Night Life: Swipe Right To see Our Favorite Spots
The Rabbit Hole
Up in Wadano is The Rabbit Hole (pictured, top), which aside from breathtaking mountain views, makes you feel like you've encountered an edgy Melbourne laneway bar. Even the barmen have Chet Faker beards going on. In addition to having an excellent selection of beer, wine and spirits on hand The Rabbit Hole is also known for their burgers (probably the best in the valley). Don't leave without trying the Chuck Norris burger. The Rabbit Hole often has live music and DJs and also has pool and darts as well. It's one of the coolest bars in Hakuba.
Jack's Sports Bar
An awesome mix of live sports, live music, and relaxing atmosphere makes Jack's a must visit on your Hakuba bar crawl this season. Located in the heart of Happo-Village in the Hakuba Springs Hotel, Jack's may be the best spot to watch a game in the valley. They have an absurd 200 sports channels to choose from and cozy fireside couches to relax on with a beer while you enjoy the game. As the night goes on, Jack's transforms from a cozy sports bar to a thriving night scene, with DJs and live music performing regularly. It's one of the best bars for mingling with fellow travellers.
Bar Refuel
Bar Refuel is one of the few watering holes that stays open well into the early hours of the morning. It has a great local vibe, plays good music and offers late night snacks. It really is one of the best mixtures of locals and visitors and the menu is a combo of Japanese and foreign bar foods. The kitchen stays open late and the menu ranges from udon noodles to French fries and chicken nuggets. Drinks are half price during the daily happy hour from 6 to 8.
Mocking Bird
Mocking Bird will be buzzing on just about any night of the week, often with a mix of locals and Westerners. The bar is creatively decorated with woodwork – there's a large tree made of driftwood centred in the middle of the bar – and has a great selection of beer, wines and traditional Japanese cocktails.
Free Ride World Tour
The best freeskiers and snowboard freeriders will compete on 5 of the most legendary and challenging alpine faces in the world this year including in Hakuba between January 18-25.
Slalom Race
Happo-One will host the annual slalom race this year from January 30th.  The competition is open to the public and costs ¥5,000. There are multiple age groups. Visit the Happo-One website for more details.
The world famous Snow Monkeys are the only known monkeys to  bathe in hot springs and they're easily accessible! It takes about two hours on public transport from Hakuba. Tours are also available.
Monkeys not your thing? How about a trip to one of Japan's oldest standing castles? Nicknamed "Crows Castle' for its unique black color, it's one of the few castles in Japan constructed in an open plain. It's about 90 minutes on JR train from Hakuba Station.
Located 10 minutes from Nagano Station, this 7th Century Buddhist Temple is one of the most significant in Japan, and many believe it holds the first Buddha statue brought to Japan. Given its location and splendor, it's a must see for all visitors.
Home to one of Japan's most famous gardens, a beautiful castle, and Edo period shopping arcades, Kanazawa is a great way to experience Japanese culture and history. The trip takes 2 Hours and 52 Minutes from Hakuba Station and is all included on the JR Rail Pass.
Located on the coast of the Japan Sea in Nigata, Itoigawa boasts natural beauty, fresh seafood, and a glimpse into traditional Japanese culture which can't be found in a ski resort or a big city.
Looking for thrills off the slope? Go ride some of the world's fastest and most innovative roller coasters. This trip requires a car hire.
Karuizawa
A small resort town packed with culture, restaurants, skiing, and onsens, Karuizawa is only 2 hours and 20 minutes from Hakuba by bus and Shinkansen.