The jaw dropping Japan powder draws snow enthusiasts to the Hakuba slopes every year, but it's Japan's amazing cultural experiences that separates these resorts from other mountains around the world.
Ancient Culture
Japan boasts festivals, temples, shrines, and castles that predate the founding of countries like Australia and the United States and offer glimpses into a culture and worldview formed through thousands of years of continuity and near isolation.
Delicious Cuisine
And don't get me started on the food. Japan reigns supreme when it comes to mouthwatering grub. Think sushi, ramen, izakaya skewers, okonomiyaki and so much more! Resorts like Hakuba offer these options in addition to western bars and restaurants.
Onsen
My favorite part of Japanese culture, however, and the one I think pairs best with long days of shredding the Japanese pow, is onsen culture. Onsen are Japanese public baths heated by volcanic energy and central to Japanese culture. In fact, onsen play such a prominent role in Hakuba that a festival is held every September where villagers carry a 400kg stone throughout Happo Village to honor the gods of the mountain who provide the onsen water (and the ski slopes).
Where to Enjoy Onsen
Onsen is the single best way to relax once those legs are exhausted from long days of skiing. Here are 4 Hotels in Hakuba offering in-house onsen making it cheap and convenient for you to start and end your days in Japan with a calming onsen soak.
Phoenix Hotel
The Phoenix Hotel sits in the beautiful Wadano Woods village in Hakuba, approximately 500 meters from the Happo-One lifts and is flanked by great restaurants, cafes, and bars. The Phoenix boasts the highest TripAdvisor rated restaurant in the Hakuba Valley, Mimi's, which serves a Japanese-European fine dining fusion. The hotel has Japanese and western rooms with twin rooms starting at ¥20,000 per night.
Phoenix Onsen
The Phoenix onsen provides warm cozy vibes while you soak and relax in the steaming onsen water. Phoenix also has a mist room where guests can unwind privately or in small groups. Unlike Mimi's restaurant, both facilities are available only to Phoenix guests so make sure to reserve a room if you'd like to take advantage of these options.
Hakuba Springs Hotel
In the heart of Happo village, Hakuba Springs Hotel sits 300 meters away from the Nakiyama Chair Lifts and only minutes away from the Happo-One gondola. The hotel combines western comforts with Japanese culture offering a phenomenal sushi restaurant, Sharaku, and a great onsen for guests. The Springs has Japanese and western style rooms with twin rooms starting at ¥20,000 per night.
Springs Onsen
The onsen facilities includes a dozen showers, two large warm water baths, and a sauna. Guest are provided with all the essential items including towels, toiletries, hair dryers and storage space for their belongings. This onsen is reserved exclusively for Hakuba Springs guests.
Highland Hotel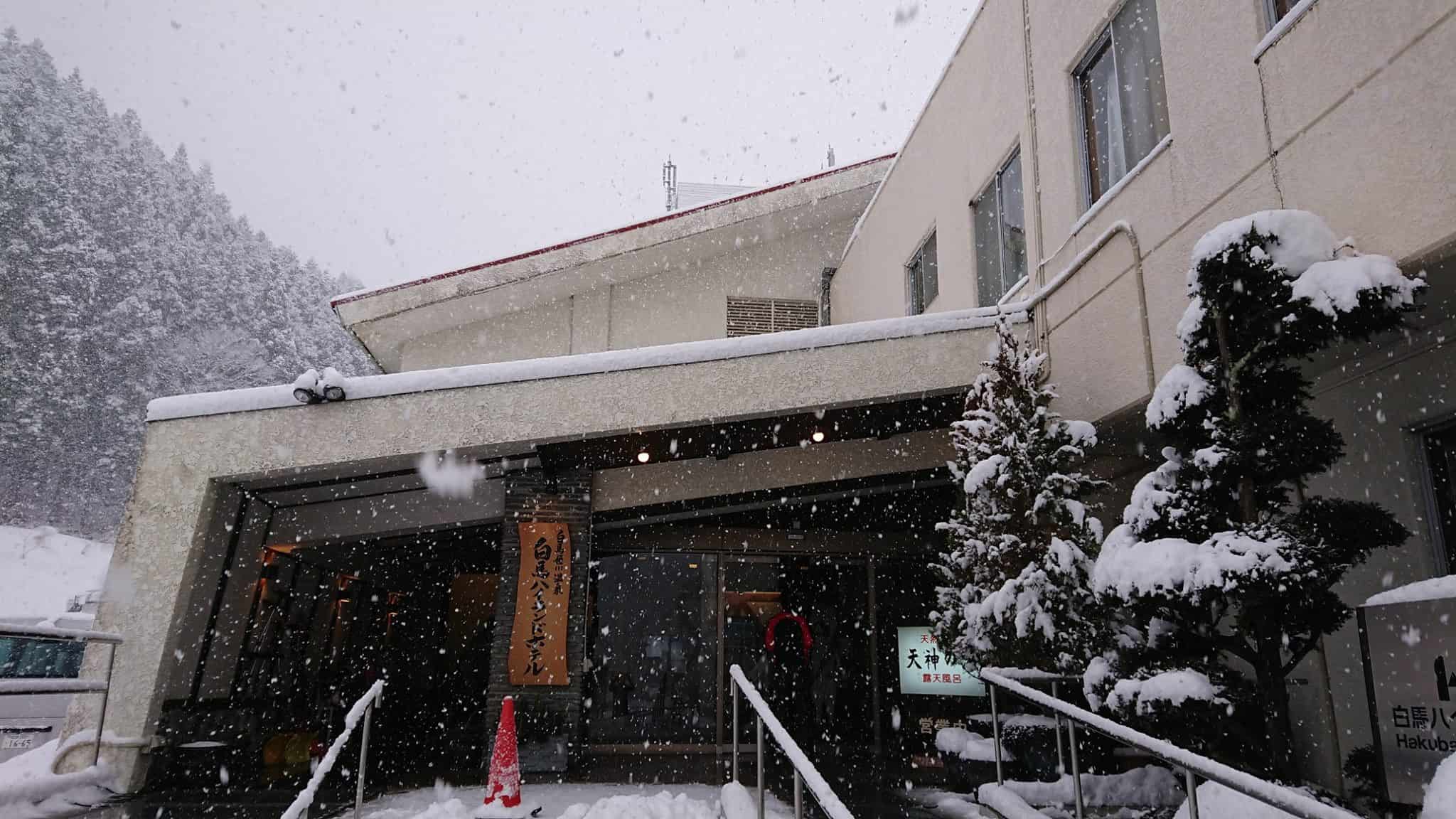 This iconic Hakuba hotel sits perched on a hill in the valley opposite from the ski fields. As a result, hotel guests are privy to spectacular views of Happo-One and Hakuba 47/Goryu. The hotel runs shuttles to the Happo lifts which are located about 4k away. 2 person rooms start at ¥18,000.
Highland Onsen
The Highland Onsen may be the best onsen experience in the entire Hakuba Valley, as it offers indoor/outdoor facilities combined with stunning panoramic mountain views. The onsen is open to the public with admission costing ¥600 per visit.
Rosenheim Hotel
Rosenheim Hotel provides great vibes combining Northern European style aesthetics with Japanese charm, hospitality, and culture. In true Japanese style, guests leave their shoes at the door and are treated to the full Japanese experience at this family run hotel. Single rooms start at ¥12,999.
Rosenheim Onsen
The open-air onsen has epic views of Happo-One and is the perfect place to kick back and nurse those sore legs and achy bodies.